Combining cPanel and Cloud Hosting can be an excellent solution for hosting a website. On the one hand, Cloud Hosting is a powerful and fast solution for hosting websites. On the other hand, cPanel is a popular web hosting control panel software that is easy to use and comes with many features.
Cloud Hosting solutions are much more powerful than your basic shared web hosting solutions. Unlike shared hosting, Cloud hosting solutions are deployed on multiple connected virtual and physical servers. So, with cloud hosting, you will not have to share a server with hundreds or thousands of other websites. Instead, your website will be hosted on multiple serves, which offer excellent flexibility and scalability.
Developers use cPanel to simplify website and server management. cPanel allows you to manage domains, organize web files, create email accounts, publish websites, and more. It is an excellent tool that makes managing a website a lot easier. It's simple to use, and even beginners can learn how to get around it in no time.
Cloud Hosting is ideal for businesses of all sizes and websites of every kind. Usually, most Cloud Hosting providers offer multiple different Cloud Hosting plans. So, depending on how many resources you need, you can choose which plan suits you best.
Getting a cPanel Cloud Hosting plan will allow you to have access to numerous features, tools, and resources that will, in turn, help you to create an excellent website. Thanks to Cloud Hosting, your website will be swift and reliable. Also, thanks to cPanel, you will easily manage your website by using the excellent tools and features it offers. So, cPanel and Cloud Hosting really are a match made in heaven.
For instance, let's take HostingSpell. HostingSpell is an Indian web hosting provider that has been in the hosting industry since 2015. It provides cPanel Cloud Hosting plans on DigitalOcean and Linode. You can choose from three different cPanel Cloud Hosting plans with HostingSpell. Also, all of its plans come with 24/7/365 support, automated backups, daily auto backup, free SSL, and many more essential features.
But, don't take our word for it – take our users' word! HostingSpell has received excellent reviews from our users at HostAdvice. Namely, the provider has a rating of 4.7/5.0. The feature that our users like the most, according to their reviews, is HostingSpell's user-friendliness. If you want to read the reviews in more detail, you can do so here.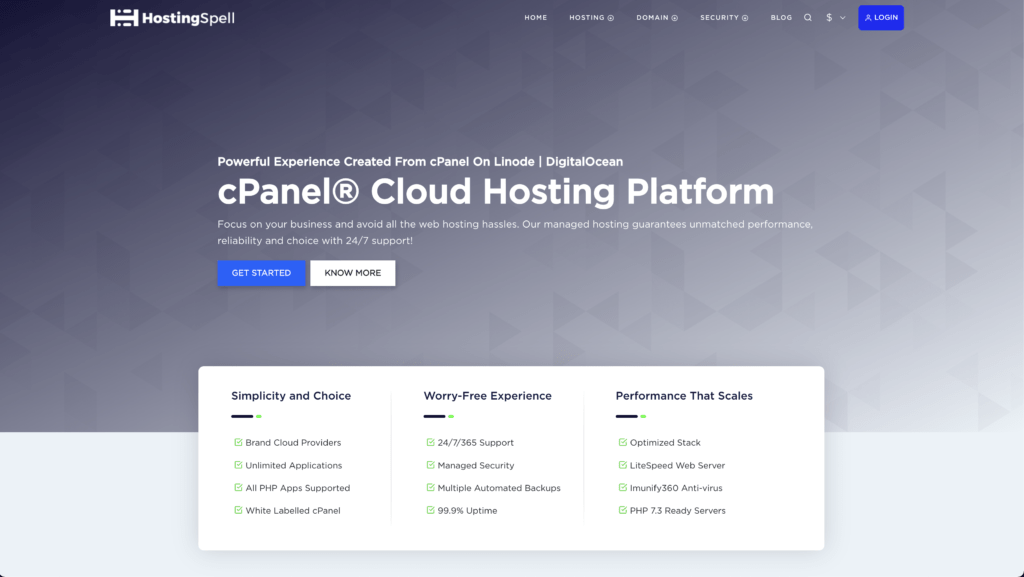 HostingSpell offers managed Cloud Hosting, which means that you will not have to worry about other websites using up most of your shared resources. Also, it provides an uptime guarantee of 99.9%, which is excellent.
[Note] An uptime guarantee is a promise that hosting providers make. It is a promise that your website will be online and accessible for a specific percentage of the time. [Note]
Being online and accessible for your customers 99.9% of the time will be fantastic for your business since your customers will be able to reach your website almost always. Also, HostingSpell is an excellent choice because it offers great security features, like dedicated firewalls, Imunify360 Anti-virus, free SSL Certificates, and daily backups in all its plans.
Cloud Hosting Plans Suitable for Everyone
No matter how big or small your needs are, you can find a suitable cPanel Cloud Hosting plan at HostingSpell. The provider offers three different plans with different features and prices. For instance, its Premium 1 plan offers cPanel Cloud Hosting, where you can host two websites, have 30GB Pure SSD storage, 300 GB Bandwidth, unlimited SQL database, and unlimited email and FTP controls. If you need more features, you can get a more powerful plan and have everything you need.
So, HostingSpell has plans for everyone. All you need to do is decide which features you need, and you're good to go. Also, if you ever need even more resources than you already have, you can always upgrade your plan.
[Note] HostingSpell offers a plan that will allow you to have unlimited resources, like unlimited domains, storage, bandwidth, subdomains, and email/STMP accounts. [Note]
Some Information About HostAdvice
HostAdvice provides unbiased and expert web hosting comparisons. We currently have over 4,000 review pages and over 65,000 user reviews. We started our business in 2014 and have been growing ever since.
Companies and individuals worldwide reach out to us constantly to find out which hosting providers have the best prices and reliability. That has only increased during the past couple of years. Since the pandemic started, many businesses had to go online to survive, and we have helped make their transition successful.
Also, we provide numerous reviews, guides, and how-to articles written by experts that can help people with their tech-related endeavors.
Conclusion
Hosting your website with a cPanel Cloud Hosting plan will allow you to have the best of both worlds. You will get lightning-fast and reliable performance and a tool that will make managing your website an effortless task.
All in all, cPanel works great with Cloud Hosting and is the ideal control panel to pair with the Cloud. cPanel's many features and capabilities will make your experience with the Cloud a very successful one.